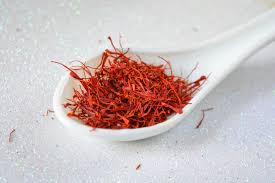 A dark red spice used for giving food an exotic taste, aroma and color, saffron is the most treasured spice in the world. Saffron is harvested from the flowers of the saffron crocus plant (scientific name: Crocus Sativas). What we call saffron is actually the styles and stigmas of this flower that have been harvested and dried. Most of the world's saffron is produced and harvested in Iran. Saffron gives a beautiful color to food because it contains a carotenoid pigment called crocin which gives it a golden hue.
In Southeast Asia, saffron is a secret beauty ingredient used in face masks to attain glowing skin. Here are the benefits of saffron for skin:
Brightens skin
Heals and prevents acne
Slows down premature aging
Fades scars
Gets rid of a suntan
Soothes skin problems
Tones skin
How to Choose the Right Saffron
Since this spice is expensive, there are many adulterated versions out there in the market. There are some versions of saffron sold more cheaply and these contain additives and colourings to make them resemble the real saffron.
The highest quality saffron are those which are deep red, sometimes having orange tips. Another way to find out if the saffron is real is by soaking it in water/milk. Real Safferonwill take about 15 minutes or more to get a slightly yellow color and give off a beautiful aroma while the fake ones will give off color immediately as they contain artificial coloring.
How about saffron powder? Please stay away from saffron powder as it is very much likely to contain additives and artificial coloring. You don't need to buy fake and poor quality saffron 'powder' when you can, in fact, buy the real saffron and make your own saffron powder easily.
Many people make their own saffron powder at home by grinding the strands with sugar in a coffee grinder and storing it in a jar for use in cooking. Powdering the saffron will make it more effective to use.
Saffron is more expensive than gold and only a few can get their hands on it. That's why these homemade saffron face mask recipes are indeed royal skin treatments. :
1. Milk & Saffron Face Mask for Skin Lightening
This luxurious face mask originated in South East Asia, where saffron is popularly used in cuisine. The combination of milk and saffron is the most popular saffron face mask recipe for skin brightening. The golden color of this milk & saffron face mask will help brighten skin. Here are the benefits of milk for skin.
| Ingredient | Benefit for Skin |
| --- | --- |
| Milk | Milk contains lactic acid, a type of alpha hydroxy acid that has skin exfoliating properties. It will help cleanse off dead cells, dirt and grime from deep within pores. Milk also has skin lightening properties that will fade away blemishes, acne scars and dark marks thereby evening out skin tone. Use milk to soften rough skin. |
Tips Before Making the Mask
If you don't have time, you can skip the crushing step and apply the saffron face mask with the strands. Crushing it up with a spoon and tea strainer is simply to make the most of the saffron, with no wastage at all.
Alternatively, you could also make your own saffron powder (by grinding in a coffee grinder with sugar) and keep it in a glass vial.
Use a face mask brush because this saffron face mask, much like a Tumeric Face mask,

 

can stain your fingernails yellow.
Ingredients:
4 strands of saffron
2 teaspoons of milk
Directions
Begin by heating up/boiling your milk.
Next, pour just two teaspoons of the hot milk into a small bowl. Add about 4 strands of saffron.
Leave the mixture to cool down completely.
When it has cooled down, get a tea strainer and strain the milk into another small bowl. You will have collected the soaked saffron strands in the tea strainer.
Using a spoon, start crushing up the soaked up saffron strands. By doing this, you will be extracting more of the saffron which will make your milk more yellow in color.
When all the saffron is mashed up, your face mask is ready for application.
Using a face mask brush, apply the mixture onto your face and neck. Leave this saffron face mask on for about five minutes or until it is completely dried up.
Wet a cotton pad/sponge and start removing the mask gently until it all comes off.
Rinse off with tepid to cold water and pat dry.
2. Honey & Saffron Face Mask for Skin Brightening
Mix honey and saffron to form a deep cleansing and skin softening face mask. The saffron and honey combination will brighten skin, lighten any dark marks and even skin complexion. Check out the special benefits of honey for skin.
| Ingredient | Benefit for Skin |
| --- | --- |
| Honey | Honey will cleanse and moisturize your skin. It also contains antibacterial properties that will keep your skin free from bacteria & acne-causing germs. The skin lightening properties of honey will help fade away acne scars, dark marks & blemishes. |
Tips Before Making the Mask
Please make sure to buy organic honey to avoid the additives in adulterated honey that can cause skin irritation.
If you can't powder the saffron, simply mix up the saffron strands with honey and use.
Apply the face mask over your kitchen/bathroom sink to avoid drips.
Ingredients:
1/2 teaspoon saffron
1 teaspoon honey
Directions
Powder about a little saffron and keep it in a small jar.
In a small bowl, add 1/2 teaspoon of saffron and 1 teaspoon of honey. Mix the two thoroughly until well combined.
Apply this onto your face using a face mask brush.
Wait for about ten minutes for the goodness to sink in before rinsing off with lukewarm water.
Pat dry with a fluffy towel.
3. Yogurt, Lemon & Saffron Face Mask for Acne
Yogurt lemon and saffron all have antibacterial properties that will help fight off germs that may cause acne. Yogurt contains lactic acid, zinc and b-vitamins which help stave off acne and promote youthful skin when applied topically. Lemon is a natural astringent which helps tighten pores and reduce sebum that may clog up pores and lead to acne. More benefits of yogurt and lemon for skin.
| Ingredient | Benefit for Skin |
| --- | --- |
| Yogurt | Yogurt is antibacterial & anti-inflammatory which makes it very effective against acne. It will help fight off acne causing germs and reduce acne redness. Yogurt will also soothe painful and itchy acne. The lactic acid in yogurt has skin lightening properties that will help banish dark marks and blemishes. |
| Lemon | Lemon also has antibacterial properties that cleanse skin, reduce oiliness and keep acne away. The citric acid in lemon will promote bright skin and lighten acne scars and marks. |
Tips Before Making the Mask
Don't add more lemon juice especially if you have severe acne because it can burn skin and irritate acne.
For best results, squeeze your own lemon to get fresh lemon juice. Store-bought lemon juice may contain other ingredients that may irritate the skin.
Use plain, unflavored and unsweetened yogurt that doesn't contain additives to avoid skin irritation.
Ingredients:
1 teaspoon yogurt
1/2 teaspoon lemon juice
1/2 teaspoon saffron
Directions
Powder your saffron using a blender.
In a small bowl, mix up the three ingredients to form a paste.
Using a brush, slather the face mask onto your skin and wait for ten minutes for it to penetrate.
After the mask has dried, remove it using a sponge/washcloth and rinse off using cold water.
Pat dry and moisturize.
Please make sure that you are not allergic to any of the natural ingredients mentioned above before applying them onto your skin.
This content is accurate and true to the best of the author's knowledge and is not meant to substitute for formal and individualized advice from a qualified professional.